The Free Spirit is high-spirited, positively fizzing with energy. She's uncontained and untamed—though not as a rebel. Instead, she remains faithful to her inner voice, never doubting herself, and marches to the beat of her own drum.
This heroine is genuine in her interactions and always finds a way to use her imagination to add an element of fun. She's entertaining, and makes people laugh because she's not afraid to laugh at herself or any of the zany situations she may find herself in. She's eccentric and enthusiastic, living fully in the "now."
That can make the Free Spirit impulsive and undisciplined. She leaps before she looks, and while she may have the best intentions, her actions can cause more trouble for the people she's trying to help. When the going gets tough, this heroine will find herself drawn to another, new passion.
"The Free Spirit makes decisions with her emotions. She depends on her instincts to direct her path. To others, her decision making process may seem wacky at best, but to her, it only makes sense to follow her inner voice."

The Complete Writer's Guide to Heroes & Heroines
The entire song "How Do You Solve a Problem like Maria?" sums up the Free Spirit archetype. The nuns just can't pin Maria down or teach her the order of the abbey. But she makes them laugh and she means well.
When Maria arrives at the Von Trapp house, she immediately chafes at all of his rules and whistles and curfews. She finds it stifling and far too rigid—the kids need fun, after all.
Maria is young at heart and has no difficulty appealing to the children's creativity and sense of adventure. She catches onto their pranks and isn't afraid to give them a taste of their own medicine. She's right alongside them when they're falling out of boat, learning how to sing and making dresses out of drapes.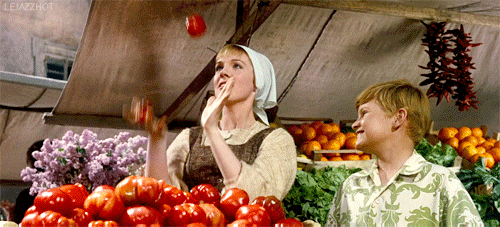 Maria absolutely frustrates Captain Von Trapp (a Chief) at first. She has no discipline, no reservation. She even talks back to him, completely disregarding his orders and flustering him enough to call her captain. It's great.
But over time, the two meet in the middle. Maria sees how Von Trapp's sense of order gives him strength and the sense of control he needs to raise his seven children and protect his family from the Nazi regime. And he recognizes the strength in Maria that goes hand-in-hand with her zany ideas and her singing, because she doesn't take orders from anyone, either.
Donna is an adventurer. She's a dynamo, hijacking her graduation to sing and dance in go-go boots and traveling the world with just a suitcase and a dream.
Her love for life draws many lovers into her life (that's the whole plot of the movie!) Her affairs are short-lived. She's not looking for a white picket fence in the suburbs. She has to follow her own path, but she doesn't expect the men in her life to follow.
Donna always goes for what "feels right." She doesn't think twice about setting up shop on a far away Greek island. Where some would see a ramshackle home, she sees a hotel and her next business venture. Fiercely independent, she never thinks twice about her decision to raise her daughter as a single mother and run a hotel on her own.
Her impulsiveness, refusal to ask for help and her tendency to meddle in the lives others can get Donna into trouble. Luckily, she has her friends to help her out of a jam (and out of those boots.)
Auntie Mame is a handful in the best of ways. She talks a mile a minute, scattering her opinions about this and that and switching topics mid-sentence as she drags her newfound friends up staircases by the arm. She's always throwing a party, regaling her guests with anecdotes of her latest adventures across the globe and dazzles everyone with her haute couture looks.
Despite being incredibly wealthy, Mame isn't too concerned about money. She's far more interested in chasing experiences—new travels and souvenirs, new outfits, new friends. She wants to live life to the fullest. "Life is a banquet, and most poor suckers are starving to death!" Mame lives her life with gusto. She goes all-in on whatever catches her eye as seen with her interior design that reflects the passion du jour.
Mame just can't seem to rein herself in, even when she tries to tone it down for her son's fiancée and family. She ends up causing even more trouble by trying to be someone she's not. But she's never down and out. There's too much to do, too much to see and too much life to live for Auntie Mame to doubt herself.
This series is based on The Complete Writer's Guide to Heroes & Heroines: Sixteen Master Archetypes by Tami D. Cowden, Caro LaFever and Sue Viders.
---
Want to find more types of characters? Follow my Hero & Heroine Archetype series.