What makes a Crusader? Think Wonder Woman in the DC Universe, Ellen Ripley in Aliens, and Andy in The Old Guard. These heroines are committed to their cause above all else. They're Crusaders.
Crusader heroines can be found on the front lines of the fight, wherever that may be —in the war, a political tussle, or on the streets of their hometown standing up to a bully. A sword of justice helps, but it's not required.
At her core, the Crusader is a fierce believer and warrior. She's confident, persuasive, and never backs down when she's met with opposition.
Quitting is not an option for the Crusader. She cannot sit back and do nothing, and she's not about to leave the fate of her cause to chance. These heroines can also be rash in their decision making, stubborn, and extremely opinionated. The Crusader can become so engrossed in her work that she can develop tunnel-vision and find herself neglecting those closest to her in order to complete her mission.
The Crusader is a fighter through and through. Do not try and calm her down or attempt to divert her into having a picnic…The Crusader knows that action is necessary, and she is the one to get the job done. If necessary, she can become a one-woman army.

The Complete Writer's Guide to Heroes & Heroines
Peggy Carter (Marvel UNIVERSE)
"I know my value. Anyone else's opinion doesn't really matter."
Oh, Peggy Carter. How I adore thee!
Peggy is by far one of the most badass women in the entire Marvel universe. And she doesn't even have powers! Peggy fights the Nazis, trains soldiers (including Steve Rogers pre-Captain-America-buffness) and once that fight is won, she goes on to create the entire SHIELD agency to make sure that the world stays safe even after superheroes die.
This woman can't sit back and do nothing. It's not in her nature. Peggy believes she has a personal duty to fight injustice and not only take a stand — but take action — against what is wrong. She doesn't expect any rewards or accolades. She just wants to be respected as an agent, and to get the job done.
Peggy is incredibly effective as an agent, soldier, and honorary superheroine. She's determined, intelligent, and will literally use anything and everything around her to beat her opponent down (she has a gloriously unrefined fighting style. It's practically a character trait.)
As an agent, Peggy can assess dangerous situations quickly. She's logical, but she still has an instinct to protect others, even if it means putting herself in harm's way. Part of it comes from confidence in her abilities. The other part is a somewhat jaded sense that if she doesn't then there's no guarantee anyone else will.
"Compromise where you can. Where you can't, don't. Even if everyone is telling you that something wrong is something right. Even if the whole world is telling you to move, it is your duty to plant yourself like a tree, look them in the eye, and say, 'No, you move'."

Sharon Carter's advice from "Aunt Peggy" in Captain America: Civil War
Peggy's not everyone's cup of tea, and she doesn't try to be. But it can get to her. In the Agent Carter series (cancelled too soon!), she is quite cautious of letting people into her inner circle. She has, as she says, a bad habit of getting those around her killed. Her job is dangerous, and she will never give up her work to save the world. She couldn't do that and be Peggy Carter.
Olivia Pope (Scandal)
Olivia Pope may not be the first heroine that comes to mind when you think of a Crusader in the heart of Washington DC's politics…but isn't she?
Olivia fights tooth and nail for her clients. She uses everything she's got to win and be their champion. She charges into the fray like a white knight and rescue them from a scandal. She handles the situation and only takes on a case if she believes in the cause and believes she can win.
Olivia Pope is relentless. She fights until it's done, and she doesn't fold her cards when she's got chips on the table. It makes her a great fixer, campaign manager, advisor and ally. It also makes her a threat. She fights to win, and she isn't intimidated by the opposition — even if they're in the White House.
Her complicated romance with President Fitz ties well into her Crusader beliefs. Olivia was, after all, drawn to his integrity and devotion to what was right and just. She saw a man who could change the world if given the chance, and knew the world would do everything to stop him. So, she took on the cause and worked behind the scenes to fight for his chance to change the country…even if it meant doing less-than-heroic deeds.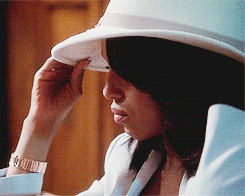 Olivia believes in the White Hat. She believes in her team of gladiators and has incredibly high standards for herself and others. She holds little respect for the people who fall short or give up the fight, but she will stand by those she deems worthy and take on their causes as her own.
Her life is a series of championed causes. It drives people away, it creates enemies, it can be draining and shatter her relationships — but she doesn't give it up. As much as she would like to have that quite life in Vermont with Fitz, she knows she could not allow herself to rest when there were situations to handle and things to fix.
Elena Alvarez (One Day at a Time)
Social justice warrior. Fangirl. Feminist. Lesbian. Cuban-American. Elena Alvarez is proud of who she is and she's not in the business of compromising to appease the masses.
Elena dedicates her words, brain, and time to fight for her cause. She goes to Saturday protests instead of high school parties. She dedicates the time to educate herself on matters that are important to her. As a Crusader, she's never "off" the job. She'll call out problematic behavior wherever she sees it, even if it makes her "annoying" or "lame". She's not supporting the LGBT movement or sustainability act to be cool. She's doing it because she thinks it's the right thing to do, and she can't just sit back and let bad things happen.
Elena is well aware that she can be, well, abrasive. She's opinionated and doesn't pull her punches. It can raise the hackles of those around her, and she's prone to picking more battles than she needs to fight or losing her temper when someone like her brother is just trying to rile her up.
Even in her hobbies, Elena can be a bit too tenacious and run herself into the ground to achieve her goal. When she gets into video game streaming on Twitch, she tries to do everything herself just to prove that she can. She can't quit on principle, even if it's not fun anymore. Thankfully, she has her family remind her that she can be the cause she fights for instead, and the world won't end if she takes a moment to do what she wants.
Elena grows to fight for herself over the series, not just for her cause. She takes that same determination and channels it into her own life to live by her values. It's the same energy that drives her to wear a pantsuit to her Quinceañera and go on to fight for her budding romance with her "Sydnificant other", the nonbinary and fellow geek Syd. Elena grows to fight for that same pride she has in herself – all the things that she is, and all that she wants – so that she can keep fighting the good fight for her many causes.
This series is based on The Complete Writer's Guide to Heroes & Heroines: Sixteen Master Archetypes by Tami D. Cowden, Caro LaFever and Sue Viders.
---
Want to find more types of characters? Follow my Hero & Heroine Archetype series!